Recently we held a webinar with our friends at Facebook exploring full-funnel solutions for CPG advertisers. The discussion in the session centered around three Facebook ad formats that are well suited for helping CPG brands to meet business objectives in a digital environment characterized by changing purchasing behavior.
To supplement these discussions, this article summarizes the three different ad formats that were explored: In-Stream Video Ads, Personalized Video Ads, and Collaborative Ads.
The below sections explain why these three specific formats are beneficial for CPG advertisers, and how they function to meet the unique goals of a diverse range of brands in this space. The best practices for each are also discussed and are showcased through a number of examples.
To Build Awareness: In-Stream Video Ads
Linear TV has always been a go-to channel for CPG advertisers wishing to build brand awareness. However, with a significant number of people—especially younger generations—no longer reachable by a traditional TVC, CPG advertisers should look to alternative video channels where ads can be placed. The key point here isn't to replace TV advertising completely, but to extend these efforts through digital channels where the "unreachables" can be reached.
Facebook's In-Stream advertising solutions are one of the key digital channels to consider here. With 2 billion people viewing video content on Facebook Watch every month, the platform's In-Stream ad placement enables advertisers to speak to a vast, diverse, and tuned-in audience.
In-Stream ads appear across the Facebook platform and are embedded within approved publisher and creator video content. Most In-Stream inventory is for non-skippable, mid-roll ads, however, skippable pre and post-roll ads are available in a limited capacity.
Benefits of In-Stream Ads
Brand-safe environment: brand safety is ensured by a number of Brand Safety Controls

, enabling advertisers to determine what type of content their ads run within.

Meaningful brand storytelling: In-Stream enables you to cater your messaging and visuals towards the viewer, providing an impactful, relevant brand message, rather than trying to cover all bases with a traditional TVC.
Garner greater impressions: In-Stream ads enjoy high rates of completed views, enabling you to spend longer with your audience and deliver a richer brand message.
In-Stream Best Practices
15-second duration: traditional TVC's need to be trimmed down when placed in a digital viewing environment. 15-seconds is an ideal duration for In-Stream as it will be short and punchy, whilst giving time to communicate a meaningful brand message.
Amplify visuals through sound: being a sound-on environment, the In-Stream placement calls for complementary sound design in order to supplement and amplify the visual aspects of your creative.
Crop in tight to subjects: if your In-Stream ads feature people, be sure to crop in tight within the frame. This helps to build intimacy with your audience who are likely viewing the ad on a smaller, mobile screen.
Large and legible text: the smaller dimensions of phone screens also calls for bold, superimposed text in order for your message to be easily read.
To Drive Consideration: Personalized Video Ads
Moving further down the funnel, Facebook enables CPG brands to drive consideration by targeting audience segments with ads that feature messaging or offerings that are tailored to their specific interests. Essentially, Facebook's data-backed personalized ads help you to narrow your audience down to the people who are most likely to be interested in your product.
For CPG, personalization is especially key in order to develop meaningful brand relationships within markets where consumers are more educated and empowered than ever before. These brand relationships can be fostered via personalized Facebook ads at the consideration stage of the funnel, helping CPG brands move customers through the purchase journey, as well as nurturing these customers to improve brand loyalty.
Most CPG brands will enjoy a wealth of data, whether it be from point of sale, CRM, or social/web engagement—all of which can be used in order to inform which audience segments to target with personalized ads.
The quantity and richness of the data that you have will help to determine your personalization strategy and how you create your audience segments for targeting. For example, demographic data is extremely important, but if you have insight into more granular data points such as purchase behavior, interests, and motivations, you can become a lot more precise with your approach.
Building personalized video ads
The important thing to remember here is that being able to personalize your ads from a targeting perspective is only one-half of the puzzle. You also need to develop creative that is customized both in terms of visuals and messaging in order for the ad to truly resonate with target audiences. This means producing unique creatives for each of your identified audience segments, rather than taking a one-size-fits-all approach and then personalizing through your targeting set-up.
The data-driven knowledge that you have regarding your audience segments should be central to how your creative is built. This will help your ads to land a strong message that resonates and drives intent.
Let's take a look at some examples of personalized video ads with different targeting approaches.
1. Lenor France
In France, Lenor utilized personalized video ads in order to target three of their key buyer personas: gym goers, moms, and pet owners. Although each of these customer personas purchase the same product, they do so for very different reasons. By reflecting these purchase motivations through three separate creative concepts, Lenor was able to boost intent due to the ads having greater relevance.
2. Lancer Skincare
In a campaign promoting their exfoliation product, Lancer Skincare took two different messaging approaches. One was geared towards audiences who were interested in the scientific, clinical formulation characteristics of the product, with the other concept speaking to those who were motivated by the product's anti-aging benefits.
To Initiate Purchase: Collaborative Ads
In 2020, the CPG industry experienced a monumental shift in purchasing behavior, with customers opting to shop online due to the threat posed by in-store shopping. This e-commerce growth is predicted to have a lasting impact on the industry, with brands needing to adapt quickly to this new landscape.
Facebook's Collaborative Ads format can help CPG brands to thrive in this new landscape, by enabling them to reach and convert more shoppers online.
What are Collaborative Ads?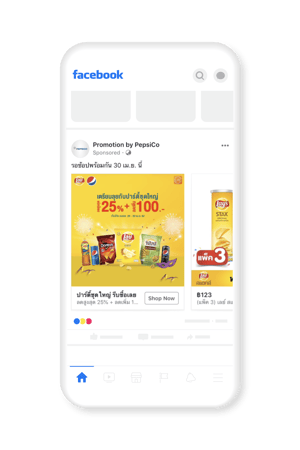 Taking the form of either a Carousel or Collection, Collaborative Ads enable you to run performance marketing campaigns for your products, driving purchases on web, app, or in-store (beta).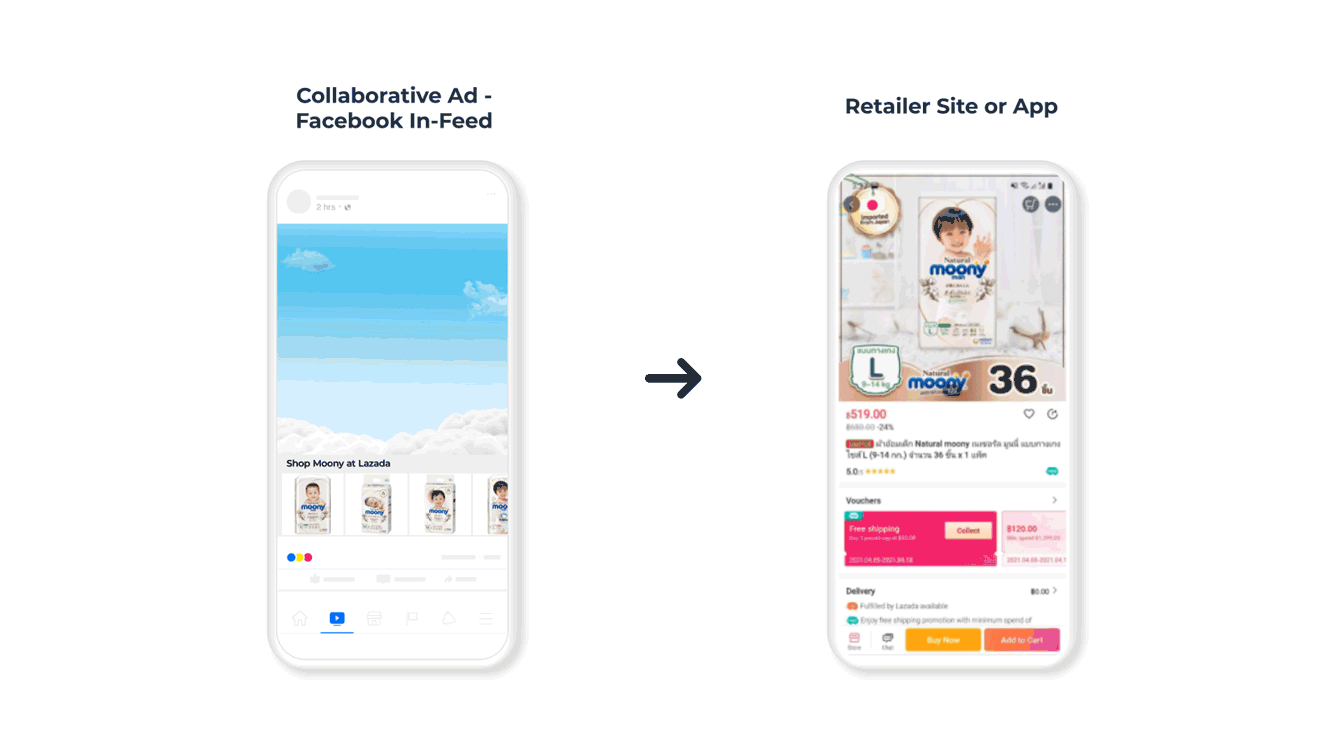 With Collaborative Ads, brands can partner with retailers to dynamically run ads in-feed, utilizing the retailer's catalog along with purposefully made creative. This leads high-intent customers through to the retailer's site or app, where they can make the purchase.
Benefits of Collaborative Ads
Personalized: Based on interests, Collaborative Ads automatically match your products to the right customers, at scale.
Simple: Configuration is easy, and the ads will dynamically only show products that are in stock with the retailer.
Collaborative Ads for In-Store sales
Rather than directing customers to retailer sites or apps, there is also the option (currently in beta) to run Collaborative Ads to drive in-store purchases.

By partnering with In-Store retail partners, brands can use the format to target shoppers within the vicinity of specific brick-and-mortar locations.

This new format poses a huge opportunity for CPG brands. If you'd like to learn more about it, we recommend that you check out the 'Facebook Full-Funnel For CPG' webinar recording, where it is discussed in greater detail.
Facebook + Shuttlerock: Full-Funnel CPG Creative Solutions
If you are interested in hearing about how Shuttlerock can enable your brand to achieve full-funnel success on Facebook, please feel free to reach out to liftoff@shuttlerock.com. We have a number of creative starter packages available that are based on the ad formats featured in this article.