Welcome back to our monthly round-up of the latest and greatest updates in ShuttlerockCloud making it easier to achieve your creative goals.

This month, we'll take a look at an exciting new beta feature leveraging the technology you've been seeing in the headlines, hearing about at work, and discussing at happy hour: artificial intelligence.
Plus, we're making it easier to scale your projects, and sharing a tip on how to add more direction to your briefs to get exactly what you're looking for.

Let's dive in!
New feature: AI voice-overs (beta)
Including voice-overs in your creative is a powerful way to add context and drive home your message. This is especially true in "sound on" environments like TikTok, Instagram Reels, and YouTube. But it came with trade-offs: VO required extra budget to hire a professional, plus extra project time to coordinate the recording.
Now, with the power of AI, voice-overs can be generated instantly in ShuttlerockCloud at no additional cost. That's right, free! The technology is still experimental (hence the "Beta" label), so voice options are limited and the results may not be 100% perfect yet, but are improving fast! We'd love for you to try it out and share your feedback with your Customer Success Manager.
You can read more about the feature and listen to voice-over samples in our Help Center. If you prefer a human voice-over recording, Shuttlerock continues to offer a professional network that you can leverage as a creative add-on for an additional fee.
New feature: Post-approval additional formats
When you brief a project in ShuttlerockCloud, you can select which platforms and ad formats you want your creative optimized for. Sometimes plans change on the fly, though, and your team decides you do want to test that new video on Pinterest after all.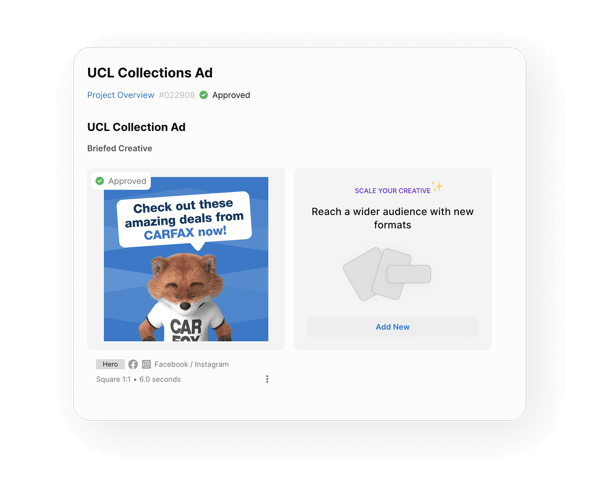 This new feature helps you extend your project to more formats after a project is approved, all with just a few clicks. Just click the "Scale Your Creative" tile and select the additional formats you need. Our creative team will get to work, and you'll have shiny new formats back in just a few days.
Tip of the month: Add design instructions with Asset Notes
Our designers are amazing at creatively using the input assets you provide in the brief, but sometimes you have a specific idea in mind for how or when an asset is used in your new video. Now, sharing your vision with our designers is easier than ever.
With Asset Notes, just click the icon in the bottom left corner of any uploaded asset and you can add specific context or direction. This helps our designers execute faster by not having to figure out (or guess) which directions in the full brief apply to each asset — meaning less revisions and faster projects!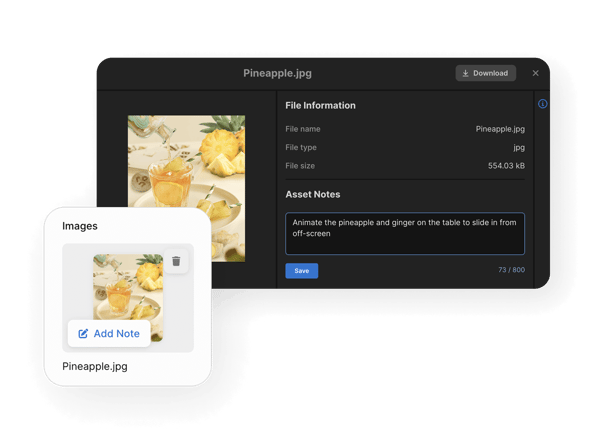 Some examples of how you could use Asset Notes:
On a video clip: "Use timestamp 0:14-0:18 for the opening scene"

On a static image: "Animate the beverage bottle to slide in from left to right"
Keep in mind: filling in Asset Notes is optional. You can use them all the time, sometimes, or never. If you just want to simply upload your assets and give our designers flexibility on how to use them, that's great too!
(Pro Tip: You can add permanent Asset Notes to any assets in your Brand Profile - perfect if you have specific rules around logo usage or when to apply supporting brand elements, so try that out too!)
---
That's a wrap!
Interested in learning more about time-saving ShuttlerockCloud product updates - including our roadmap of key features for the second half of 2023? Join our upcoming webinar to hear directly from our product team about the amazing innovations they're working on.
Register here to save your spot!
Thanks for reading, and we'll see you next month!