For our Product Pulse update this month we're focusing on just one new feature – but it's a big one. At Shuttlerock, human design talent is at the core of everything we do, but technology to help marketers do more with their creative – and save time doing so – is just as important.
This groundbreaking new creative technology feature empowers you to iterate and scale your projects completely on your own. No expensive software or video editing skills required. So without further ado, let's meet the Instant Copy Changer in ShuttlerockCloud.
New Feature: Instant Copy Changer
The copy in your ad creative is a key factor in connecting with your audience, and performance-focused marketers will often upload and test multiple variations to see what resonates the best.
Let's say you just approved a video ad with straightforward copy like "Try our new summer flavors". It's fine, but you're curious if something a little more tantalizing like "Dive into refreshment with new summer flavors" will capture more attention and drive better results.
Now, instead of waiting a few days for a designer to create your copy variation, you can create it yourself in a matter of minutes with the Instant Copy Changer. This will deliver major time savings for Shuttlerock customers, as more than 40% of variations requested in ShuttlerockCloud today are exclusively copy-focused.
So how does it work?
On any approved project, click the "Create Variation" button. If the deliverables are compatible with the Instant Copy Changer, you'll see it pop up as an option alongside the standard variations workflow.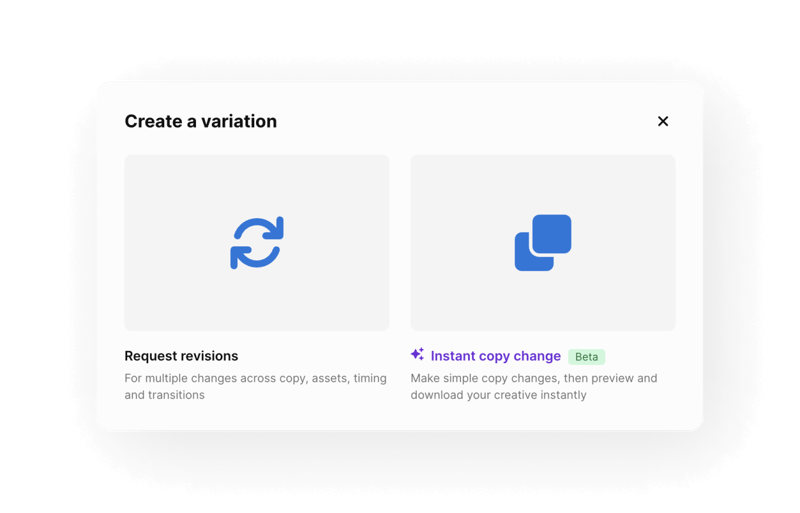 From there, your video will load with scene-by-scene editable text boxes on the right side so you can change as much or as little copy as you want. After that, just hit "Preview" and ShuttlerockCloud will render your updated video with all of the correct fonts and animations. No manual video editing required. Magical, right?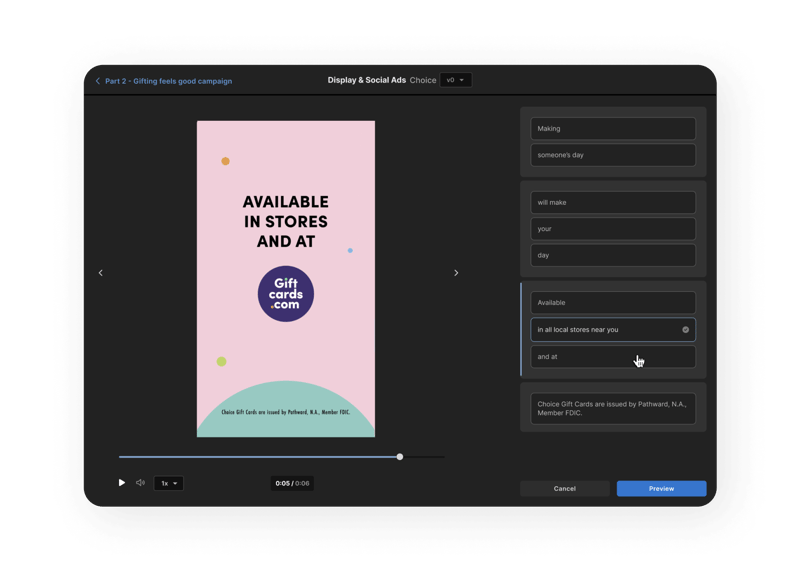 Since this is a beta feature, if you run into any technical issues or the new video doesn't look quite right, don't worry – designer help is just a click away. Please share any speed bumps you run into with your Customer Success Manager or directly with the product team through this form to help us prioritize improvements.
More upgrades and capabilities are already in development for the Instant Copy Changer, so stay tuned over the coming months!
Tip of the Month: Beat writer's block with AI-powered copy suggestions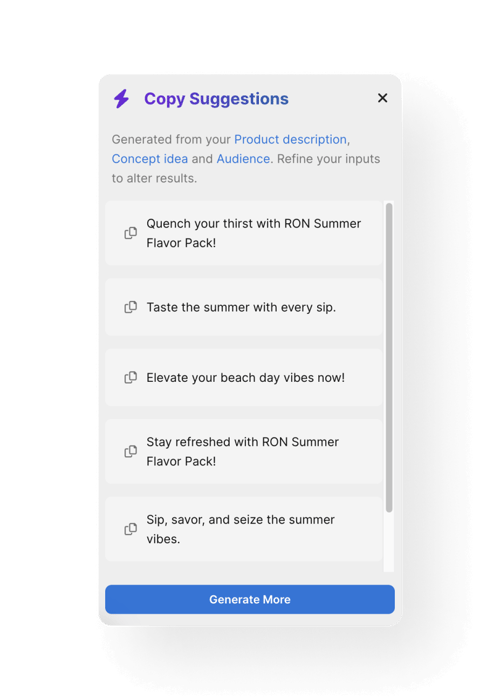 To keep with the theme of ad copy, our 'tip of the month' is centered around our AI-powered copy suggestions feature. This is an easy way to spark some fresh ideas or build out a variety of copy variations during the briefing process.
This handy feature looks at information you've already provided – such as details in your brand profile or text from your brief – to generate custom copy suggestions.
From there, you can easily select your chosen copy and add it to your brief. If you don't like the initial suggestions, you can generate more or go back and tweak your concept idea to adjust the style of the suggestions.
Paired with the Instant Copy Changer, you can generate new ideas and put them into action right away.
How's that for quick and easy?
---
Thanks for tuning in! Our team is hard at work on more features to make marketers' lives easier and drive creative impact, so we'll see you back here next month as we launch into the busiest time of the year, Q4. Until then, onward and upward!